Community News and Events
See everything going on in the community here.
Sign up to receive voice messages.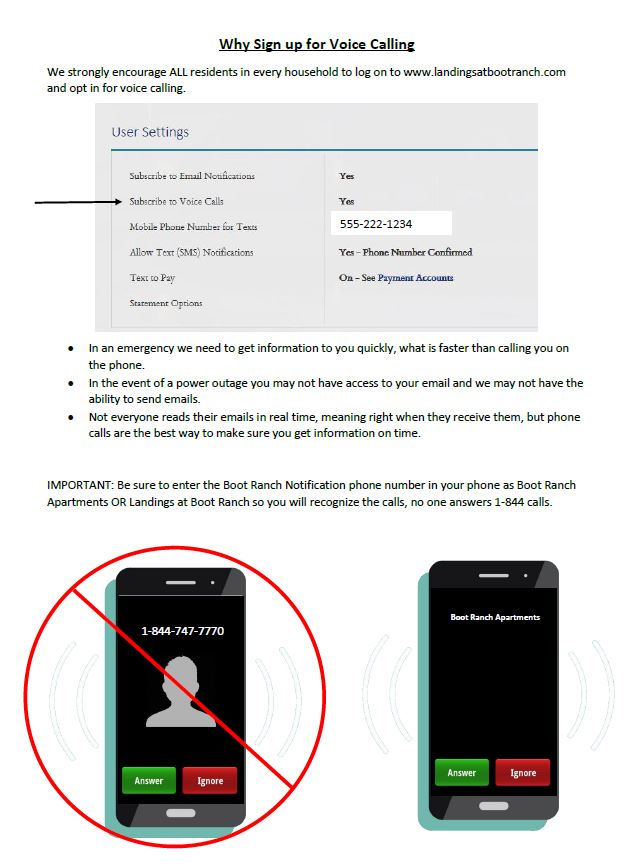 Please sign up to receive texts.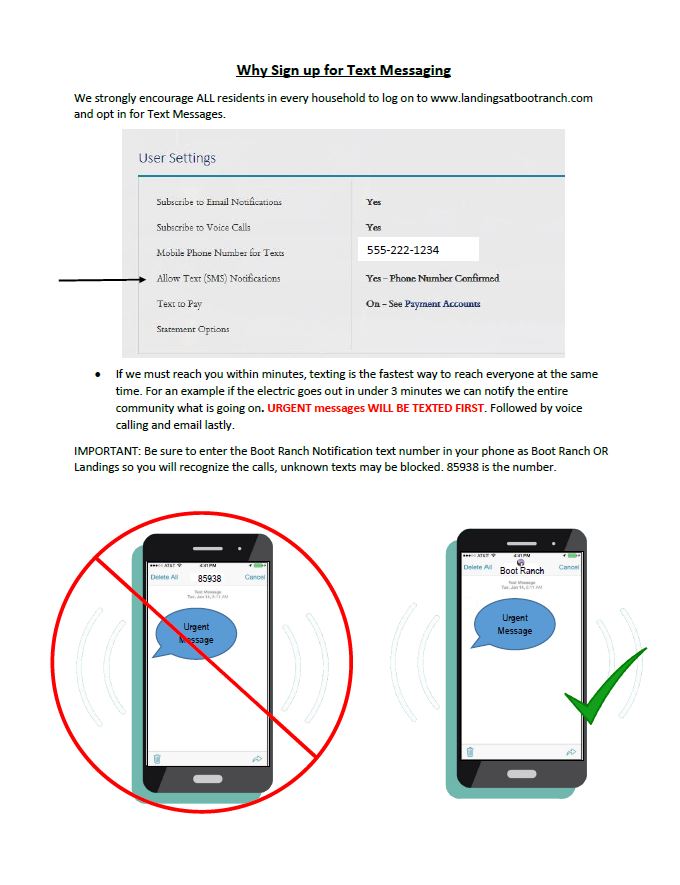 Affinity Valet Waste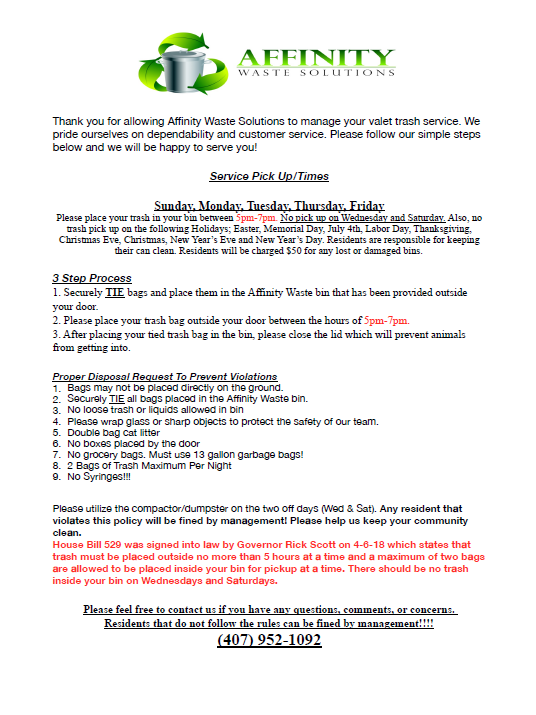 Monthly Pest Control Schedule
Pest Control is done quarterly to the exterior of every building. You may put in a request for interior pest control any time. Requests are completed on the following Wednesday. Please note that requests called in on Wednesday will not be completed until the following week so please try to always get your requests in by Tuesday.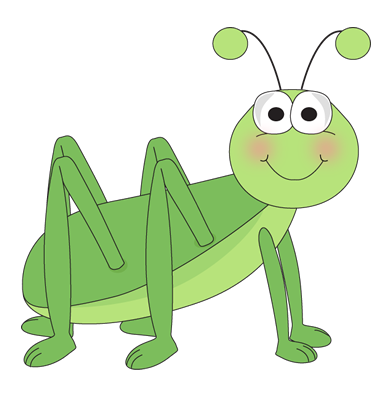 Good News! Introducing Phase 1 of Returning to "Normal" Starting "Insert Date" Dear Team Members, Our Phase 1 plan to re-open some amenities for the residents is outlined below. Overall, our teams have done a terrific job these past few weeks and we appreciate the flexibility and team approach to prepare our communities for re-opening some of those areas after the various Home Executive Order expires in each state. Below you will find detailed reopening information, by amenity, for Phase 1. Our primary focus remains on the health and safety of our residents and employees. I believe it is fair to say that all of us feel the desire to get back to normal. However, we are rolling out our services and new sanitation processes deliberately and cautiously to help us prevent a return to the COVID-19-induced restrictions we have all endured this past month. The list of amenity details for Phase 1 are provided in this communication and will be posted on our online bulletin boards* and emailed to residents. Please make sure we have updated contact information in your resident profile so you don't miss out. Special Note: Life is not back to normal yet, and as a result, we have put into place a system to try and provide an opportunity for all residents to enjoy some of their favorite places and activities. Please carefully read the operating and safety guidelines below as we begin to slowly reopen some of our amenities. Our No Guest Policy remains in place for all amenities due to limited availability. Beginning "Insert Date" Community Pools The Pool is open for swimming Mon-Fri* w/limited hours, @ 50% occupancy · 9:00am–10:00am, Seniors Hour 60+ · 10:am-11:00am Closed for cleaning · 11:00am-1:00pm, Open for all Residents · 1:00pm-2:00pm Closed for cleaning · 2:00pm-5:00m Open for all Residents Resident use is currently limited to a 1-hour time period, on a 1st come 1st serve basis. A team member will wipe down all pool ladders, gates, gate buttons, outdoor showers, summer kitchens and clean restrooms during the closed time periods. Residents are encouraged to bring their own hand sanitizer and wear face masks. Pool Deck Seating · You may reserve a cabana (property specific) for a maximum of 1 hour a day when the pool is open using the Concierge system through the resident portal · Chaise lounge chairs, if available, will be strategically positioned and available on a first come, first served basis · No additional chairs may be added to any tables · Tables, chairs or chaise lounge chairs may not be moved to other locations on the pool deck · Residents must bring two towels per person to cover their entire lounge chair Please adhere to the Government's advised social distancing measures (defined by the CDC as keeping 6 feet apart, no groups larger than 10), to be followed including when arriving to and departing the pool deck Bocce Ball (where available) · 9:00 am – 5:00 pm, Mon-Sat Court Reservations must be made through the Concierge System on the online portal Hygiene Protocol for Bocce Players - Players should use their own hand sanitizer before and after each play, wear face masks and avoid touching your face - Teams members will clean and wipe down the equipment/balls before and after each group Bicycle Rentals (where available) · 9:00 am – 5:00 pm, Mon-Sat Bicycle Reservations must be made through the Concierge System on the online portal Hygiene Protocol for Bicycle Rentals - Riders should use their own hand sanitizer before and after use, wear face masks and avoid touching your face - Teams members will clean and wipe down the bicycles before and after each reservation Racquet Sports (where available) Tennis Courts · 9:00 am – 9:00 pm, every day on a 1st come 1st serve basis Resident Information - Courts are available for singles or doubles play - Residents should bring their own towels and water - Gates will be in the open position - No furniture will be permitted on the court(s) Hygiene Protocol for Players Per the US Tennis Association ("USTA") - Players should use their own hand sanitizer before and after each play session - Clean and wipe down your equipment, including racquets and water bottles. Do not share racquets or water - Avoid touching your face - No extra-curricular or social activity should take place. No congregation - Tops of net and posts will be wiped twice a day when in use - All on court benches, if applicable, will be wiped down twice a day Please follow all CDC guidelines. Adhering to these guidelines is important and the failure to support them violates our current operational policy. We appreciate your support. We have considered numerous factors, but we must all remember the safety of our residents and staff is our priority. We all must remain vigilant in adhering to the orders on social distancing. DO NOT use any amenity if any of the following apply: · Exhibit or experience symptoms of COVID-19 · Received a positive test result for COVID-19 · Had contact with someone who has received a positive test result for COVID-19 or is otherwise believed to be infected with COVID-19 · Traveled to a high-risk area in the past 14 days Guidelines for returning to the use of our amenities for those confirmed with COVID-19: · Tested positive, then tested negative. And no fever for 72 hours, and at least 2 weeks since symptoms started. · Tested positive and the greater of 72 hours from last fever – or – 2 weeks after symptoms started, or 2 weeks from date of positive test. With your cooperation and adherence to these guidelines, we believe we can safely utilize our amenities and stay true in our commitment to mitigating the spread of the COVID-19 virus.

(0 comments)

David Garcia

|

May 5, 2020

(0 comments)